This week we are happy to announce another one of our fabulous speakers.  We are pleased to share that the pre-eminent leader on marketing to women of color will be joining us for a discussion on Marketing to the Multi-Influential.  Find out more about multi-influentials and Ms. Muley: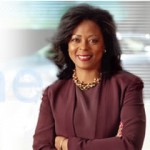 Miriam Muley – The 85% Niche
Miriam Muléy is on a mission to drive women and women of diverse ethnic, cultural and socioeconomic backgrounds to automotive showrooms, consumer electronics stores, home improvement centers, department stores, mass, food and drug stores. And she's uniquely equipped for the task. As a woman of Puerto Rican ancestry with an MBA from Columbia University's Graduate School of Business, her 25 years of hands-on brand management and advertising experience at premiere companies like General Motors Corporation, Avon Products, Inc., Clairol, Johnson & Johnson Baby Products Company, and UniWorld Group Advertising give her the advantage in selling products to women and to women of diverse ethnic, cultural and socioeconomic backgrounds.
Muléy most recently served as Executive Director, Diversity Growth Markets at General Motors Corporation, where she established the vision, key business objectives, and overarching strategies to achieve growth among diverse automotive buyers, including Women, Hispanics, African Americans, Asians, Youth, and the Gay and Lesbian markets. She also served as General Manager at Avon Products, Inc., where she was responsible for product development, merchandising, advertising, promotion and research for Women of Color, generating sales across cosmetics, fragrance, skin care, toiletries, apparel fashions, and gift and decorative items.
Her accomplishments have not gone unnoticed. Muléy has received numerous industry awards, has been featured in several magazines and news publications and was recently celebrated as one of Elle magazine's "Uncommon Women" for her strategic work in marketing to women. She also was honored with the distinguished "Ebony Award for Outstanding Corporate Marketing" in recognition of her achievements in diversity.
Read more about Ms. Muley HERE.