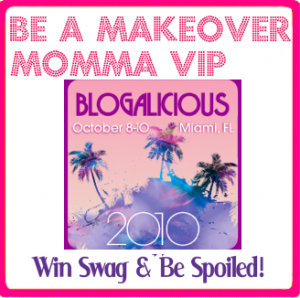 Do you know the magnificent Bailey of Makeover Momma? If you don't, consider yourself lucky that you do now!  Thanks to Bailey's enthusiasm and hours of hard work, we have a special contest that you definitely want to enter…
This year, we're so excited to bring the Blogalicious Beauty Bash! to our conference lineup. We'll have tons more news and info on this glam event later, but – in case you want to up your beauty swag factor (what gal doesn't?) – you can enter for a chance to win a Makeover Momma VIP Swag Bag full of goodies to keep you looking fabulous.
Head on over to Makeover Momma for the full contest details and to enter to win!